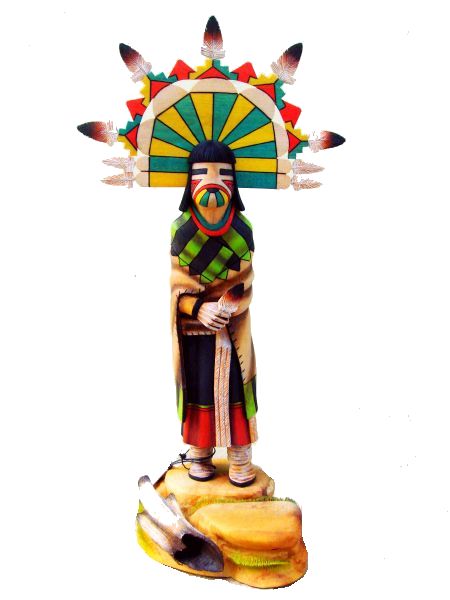 K548 Butterfly Maiden
Adrian Poleahla
Description
The Hopi Butterfly Maiden is a role model for the young Hopi girls and teaches them the graces of Hopi Society. Hopi artists carve Kachinas that capture the Butterfly's spirit to share with their people.
Adrian Poleahla, from Old Oraibi, is of the Corn and Water Clan. "Every Kachina I carve is what I've seen in real life, so therefore I try to make each one real." Adrian carved this 15.5" Hopi Kachina from Cottonwood root in the traditional Hopi manner.
About the artist
Adrian Poleahla
Adrian Poleahla is a fine kachina carver, noted for his detailed and realistic figures, often "caught" in action. He has also been able to adapt his level of detail to some small paintings as well.
Adrian Poleahla was born in Keams Canyon, Arizona, and comes from the Corn and Water Clan. He is an accomplished Kachina carver who has been carving Kachinas over thirty years, starting at the age of 5. He learned carving from his father, John Poleahla, and brothers Irwin, Wayne, Shona, and John Jr. Adrian carves his dolls in the traditional material of cottonwood with precision detail and three dimensional attention to every surface and angle.
ARTIST STATEMENT:
"Every Kachina I do is what I've seen in life so therefore I try to make every one real. I have been carving since I was 5 years old. I am very grateful for my talent and for those whose heart my Kachinas have
touched."
AWARDS/EXHIBITIONS:
… Heard Museum, Phoenix, Arizona
… Haffenreffer Museum of Anthropology, Bristol, Rhode Island
… Intertribal Ceremonial, Gallup New Mexico
PUBLICATIONS:
… The Hopi Approach to the art of Kachina Doll Carving, Eric Bromberg
… Hopi Katsina 1600 Artist Biographies, Gregory Schaaf