Friday, 23 June 2017 00:03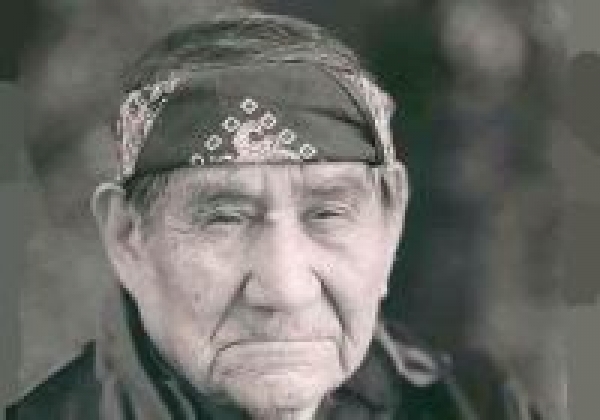 HARRISON BEGAY
Navajo (November 15, 1917 – August 18, 2012)
Haashké yah Níyá, "Warrior Who Walked Up to His Enemy"
Harrison Begay was a renowned Navajo painter, perhaps the most famous of his generation. Begay specialized in watercolors and silkscreen prints. He was the last living former student of Dorothy Dunn at the Santa Fe Indian School. His work won multiple awards and is exhibited in museums and private collections worldwide.
Harrison Begay was born on 15 November 1917 (although his birth year has also been record as 1914) at White Cone, near Greasewood, Arizona on the Navajo Nation, to Black Rock and Zonnie Tachinie Begay. His mother belonged to the Zuni White Corn Clan, and his father was Walk Around Clan Near Water Clan. Young Harrison herded his family's flock of sheep near Greasewood, where he lived most of his life.
In 1933, he entered the Santa Fe Indian School to study art under Dorothy Dunn in her new Studio School. His classmates included Gerald Nailor, Quincy Tahoma, Geronima Montoya and Andrew Tsihnahjinnie. Begay learned Dunn's characteristic "Studio Style" or "flat-style painting"; in her book American Indian Painting of the Southwest and Plains Areas, Dunn described Begay's work as "at once decorative and lifelike, his color clear in hue and even in value, his figures placid yet inwardly animated.... He seemed to be inexhaustibly resourceful in a quiet reticent way."
In 1940, Begay attended Black Mountain College in North Carolina, to study architecture for one year. In 1941, he enrolled in Phoenix College in Arizona. From 1942 to 1945, Begay served in the US Army Signal Corps.
ARTISTIC CAREER AND AWARDS:
Begay returned to the Navajo reservation in 1947 and made his living as a painter ever since. Begay continued to paint in the flat, "Studio style" throughout his long career – he was still painting (in acrylics) in 2004, at age 90.
His work has been included in a vast number of public and private collections of Native American art, including the Museum of the American Indian, the Museum of Modern Art, the Museum of Northern Arizona, the Heard Museum, the Museum of Indian Arts and Culture, the Wheelwright Museum, the Southwest Museum, the Philbrook Museum, the Gilcrease Museum, and many more.
Begay won two grand awards at the Gallup Intertribal Ceremonial and has been a consistent winner at state and tribal fairs. In 1954, he was awarded the French Ordre des Palmes Académiques. In 1995, he was awarded the Native American Masters Award by the Heard Museum. In 2003, he won the Lifetime Achievement Award from the Southwestern Association for Indian Arts, the organizers of the annual Santa Fe Indian Market.
Begay painted scenes from traditional Navajo life, showing the beauty of a timeless, peaceful and gentle world. "Although his prodigious output included facile minor works tending towards sentimentality, his major work is characterized by inventiveness, originality, refinement and delicacy." His most familiar subjects are Navajo people in ceremonial and daily life, horses and riders, and deer. Begay was named a "Living Legend" in 1990 by Indian Art Historian Ralph Oliver, per "Biographical Directory of Native American Painters."
Monday, 18 August 2014 07:33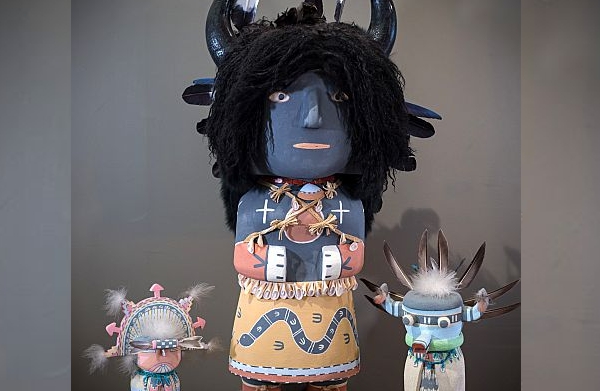 Hopi carver Chester Polyestewa has been making Kachinas since he was a young boy. His Kachinas are made in the old, traditional manner using cottonwood roots and the same style that the Hope people have given to their own children for centuries. They are painted with natural dyes and mineral paints that he makes himself. The finishing touches are beautiful feathers, Angora goat hair and deerskin. Chester is known for his exceptional feather work. He is a well-known carver whose work is sought after by collectors around the world.
Chester Poleyestewa is a Hopi Artist who carves only in the traditional style, a style that is more similar to that of kachinas of the early 1800's: arms tucked close to the body and well thought out adornment. This differs from the intricately carved kachinas that are heavily carved with exaggerated motion.