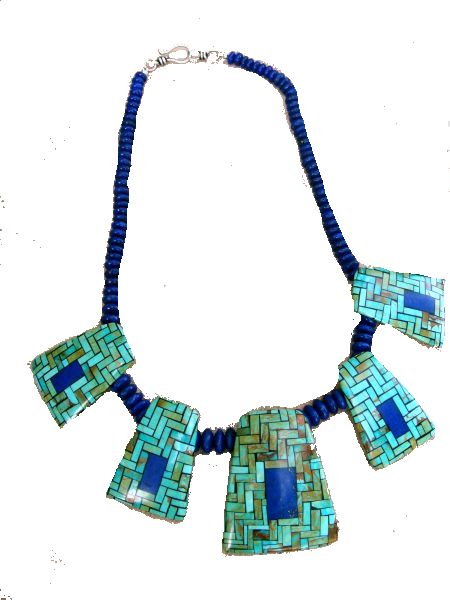 J739 Angie Reano Owen
Santo Domingo Necklace
Description
Santo Domingo turquoise mosaic necklace by renowned artisan Angie Reano Owen. The necklace is composed of five shell tabs with turquoise mosaic in a herringbone paattern surrounding a center of blue Lapis. The center tab is 1 ¾" x 2", with two 1 ¼" x 1 ¾" shell tabs on each side. The turquoise mosaic shell tabs are on 20" hand carved blue Lapis Lazuli beads. Ca: 1970
Angie Reano Owen (1946- ) was born and raised at Santo Domingo Pueblo. She learned the art of making jewelry from both her parents. Angie is known for her role in reviving the tradition of mosaic jewelry in the Santo Domingo Pueblo. In the 1970's she became the first person at Santo Domingo to apply mosaic to a shell in the manner of her ancestors.
About the Artist
Angie Reano Owen
Angie Reano Owen is a contemporary artist from Santo Domingo Pueblo. Her work is sought after because of her innovative style that uses the traditional style incorporated into the contemporary market.
In 1995 Angie was selected by the School for Advanced Research for a two month residence. During this time she studied SAR's collection of inlaid mosaic jewelry and helped catalog information. She continued to work at SAR after the fellowship was over and helped plan the Pueblo Mosaic Jewelry Convocation of 1997.
Angie is primarily known for her shell inlaid jewelry techniques. She uses delicate pieces of turquoise, jet and coral inlaid in a mosaic pattern on shell. This style dates back to the ancient Anasazi and Hohokam Indian culture. The inlaid pieces can be used as earrings or on necklaces.