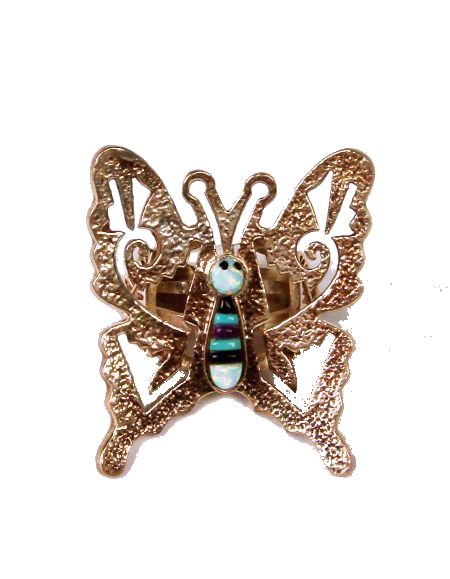 J670 Wilbert Manning
Silver Inlay Butterfly Ring
Description
Silver ring with a cut out pattern of a 1 1/8" x 1 3/8" butterfly. The head of the butterfly is opal and the body opal, jet, turquoise and coral inlay. This unique ring was created by noted Navajo silversmith Wilbert Manning.
Wilbert Manning is known for his mosaic style Navajo pictorial scenes. He has won numerous awards for his unique jewelry and is a favorite of collectors.
Size: 8 3/4
About the artist
Wilbert Manning
Navajo jewelry artist Wilbert Manning went to high school in Indiana and attended college in Gallup, New Mexica where he lives today. Wilbert does very clean, precise domed inlay and uses a broad selection stones ranging from traditional turquoise, coral and mother of pearl to hematite, abalone and jet set in finely crafted sterling silver. He is known as an "Inlay Artist". His inlay is so detailed and he uses corn-row inlay techniques in his inlay. The design and weight in his larger pieces is amazing yet he accomplishes the same dynamic appearance in his delicate metal work.
Wilbert's favorite designs are Navajo Yei figures, pictorials, including the sunface and feathers, rainbows, bears, eagles, corn rows and landscapes. Working primarily in silver, his gold work is equally amazing and his designs range from classic old pawn style to contemporary. Frequently the pieces are reversible or the bracelets are as finished on the inside as on the viewing surface.
Wilbert not only pieces the stones together masterfully, but the style and the way the stones and silver come together is only capable of a few. His inlaid edge work is admired and difficult to copy.
Manning could possibly be one of the best inlay artists of his generation. Even though he has never become a recognized "named' artist his work has consistently been shown with groups of award-winning jewelers. He has been an instructor to many upcoming younger silversmiths and has collaborated on many pieces over the years with artists Harrison Jim, Danny Clark and Charles Johnson.