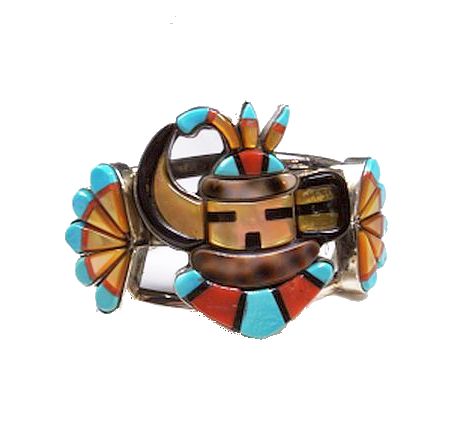 J1050 Gladys Smith
Zuni Rain God Cuff
Description
Zuni Rain God sterling silver and inlay bracelet by Zuni artist Gladys Smith. The raised inlay is turquoise, coral, mother-of-pearl and jet. "Sayatasha set by Gladys Smith, Zuni Rain God of the North, Indian Hand Made/Sterling Silver" is etched on the inside of the bracelet. Dated 4/76.
The inside of the bracelet is 5 ¾" with a 1" gap.
Sayatasha, the ZUNI RAIN God of the North is said to have power over the rain and accompanies the Shalako during the Rain Dance.
Shown with Ring J1050b @ $500.00
About the Artist
Gladys Smith is known for her inlay kachina jewelry, especially the Zuni Rain God. The Montana Mining Company at one time was owned or operated by Pat Kelsey. Along with Gladys Smith, Tom Cowboy, and Patsy Spencer worked there as well. Even though they were Navajo they all did top notch Zuni style inlay work