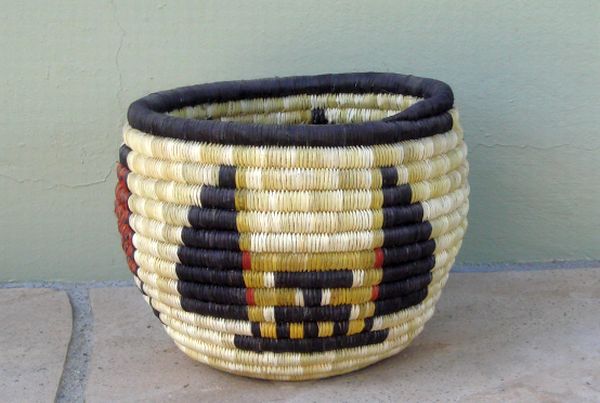 B68 Hopi Coil Basket
Crow Mother and Corn Patterns
Description
Joyce Addington from Second Mesa is the weaver of this Hopi coil basket with Crow Mother (the mother of all kachinas) and corn pattern. The basket measures 7 ½" x 5 ½".
Basket weavers on Second Mesa are known for their Hopi coil baskets. The baskets are woven by wrapping fibrous material around a single piece, usually yucca. The art of basket making is usually passed from one generation to the next. These baskets are woven in patterns important to the Hopi: corn, kachinas, animals, and other Hopi patterns.
About the artist
Joyce Addington
Hopi basket weaver Joyce Addington is from Second Mesa. She is known for her bundle coiled poota (plaques) and wukopotasivu (bowls.)
Joyce's favorite designs are Pakonghoya Harvest, Warrior Sun, War Gods, corn and clouds.