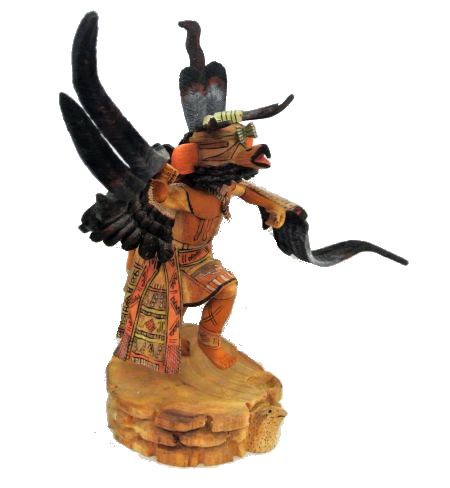 K693 Eagle Kachina
Coolidge Roy, Jr.
Description
K650 Eagle Kachina
Eagle Kachina by Hopi carver Coolidge Roy, Jr. The 8" kachina on a carved wood base has a 12" wing span is carved from cottonwood root in the traditional Hopi manner.
The Eagle Kachina represents strength & power. He is the ruler of the sky and the messenger to the heavens. He is the overseer of all of the Kachinas and is a honored guest who receives many presents
Hopi Kachina carver Coolidge Roy Jr. from Third Mesa comes from a family of carvers. His father, brothers and sons are all carvers. Coolidge says "Most of the time, when I am carving," he said, "I sing a song, a special song for each carving. The songs that I sing are the songs the Kachinas dance to. It's their song."