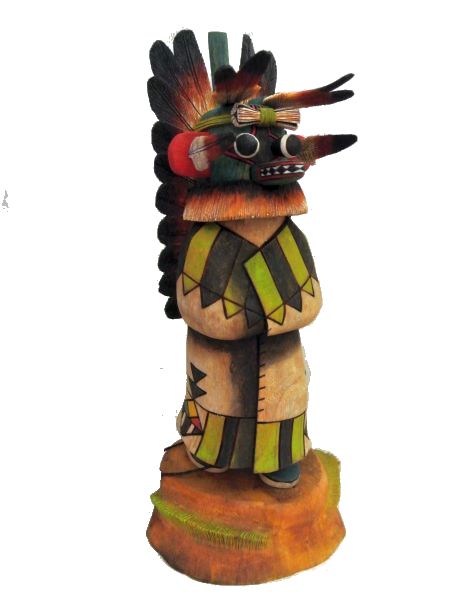 K239 Blue Ahote Kachina
Adrian Poleahla
Description
K239 Blue Ahote Kachina by Hopi kachina carver Adrian Poleahla. The 9" kachina is carved from cottonwood root in the traditional Hopi manner.
A'hote is considered a good hunter. He may appear in any of the directional colors, the two most common being the Yellow (Sikyahote) or the Blue (Sakwahote). The A'hote is the Grand Katsina Uncle of the Mixed Katsina Group and appears in the Mixed Dances. The A'hote is painted in two different ways. He appears with planets on his mask. The other A'hote version has a "split" mask with different colors on each side. Both seem to be derived from a Plains Indian because he wears a long trailing eagle feather headdress.
Adrian is an extremely talented carver with a wonderful gift of being able to carve intricate detail and create stunning realism.
About the artist
Adrian Poleahla
Adrian Poleahla is a fine kachina carver, noted for his detailed and realistic figures, often "caught" in action. He has also been able to adapt his level of detail to some small paintings as well.
Adrian Poleahla was born in Keams Canyon, Arizona, and comes from the Corn and Water Clan. He is an accomplished Kachina carver who has been carving Kachinas over thirty years, starting at the age of 5. He learned carving from his father, John Poleahla, and brothers Irwin, Wayne, Shona, and John Jr. Adrian carves his dolls in the traditional material of cottonwood with precision detail and three dimensional attention to every surface and angle.
ARTIST STATEMENT:
"Every Kachina I do is what I've seen in life so therefore I try to make every one real. I have been carving since I was 5 years old. I am very grateful for my talent and for those whose heart my Kachinas have
touched."
AWARDS/EXHIBITIONS:
… Heard Museum, Phoenix, Arizona
… Haffenreffer Museum of Anthropology, Bristol, Rhode Island
… Intertribal Ceremonial, Gallup New Mexico
PUBLICATIONS:
… The Hopi Approach to the art of Kachina Doll Carving, Eric Bromberg
… Hopi Katsina 1600 Artist Biographies, Gregory Schaaf