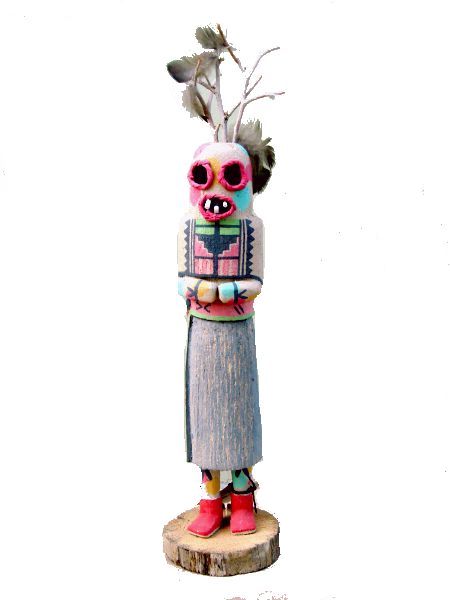 Description
Masau Kachina, also known as Earth God, controls the Earth and the Underworld. He is also known as the god of death. He controls the dead moving into the Underworld, and the Kachinas emergence into the world through the kivas. Masau only travels at night, by firelight. His face represents a skull and the spots on his head represent clouds.
This 15.5" Hopi Kachina was carved by Grover in 2003.
About the artist
Cimmaron Grover
Hopi
Hopi kachina carver Cimmaron Grover from Third Mesa, Arizona is the son of Andrew Carver. He is a member of the Water Clan.
Cimmaron is a young, traditional Hopi man. He works with his father Andrew Grover and together they live their lives with their cultural history as a daily guide. Cimmaron is a soft-spoken man from Hotevilla. His carvings are a unique blend of the Old Style and the Contemporary. He has a great feeling for the katsinam he creates and a true reverence for his Hopi ancestry.