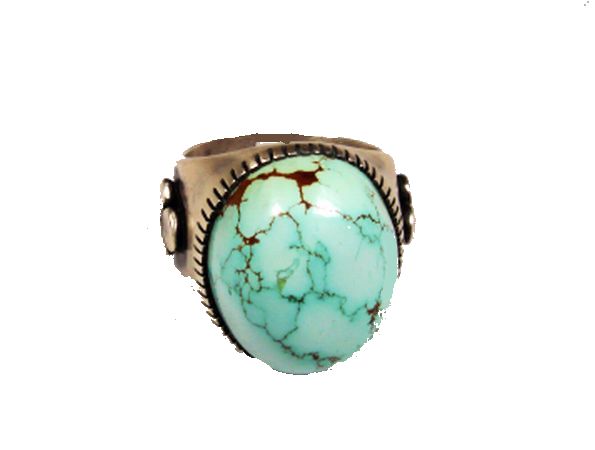 J906 Ernest T. Bilagody
Carico Lake Turquoise
Description
Heavy gauge Sterling Silver ring with a beautiful large Carico Lake Turquoise cabochon. The turquoise stone is ¾" x 1". E.T.B. Sr. (hallmark for Ernest Thomas Bilagody) is stamped on the inside. Size 14
About the artist
Earnest Thomas Bilagody
Navajo silversmith Earnest Thomas Bilagody (ETB) was born in Tuba City, Arizona to the Red House Big Water Clan and has been immersed in his trade for the better part of his life. His grandparents are from the Around the House Clan and the Bitter Water Clan. This craftsman was guided by his mother early on and continued those traditions into his adult years. He worked as a silversmith for over 35 years, since the mid 1970's, until his passing in 2014.
His mother started him out with buffing the earrings she made. From there she gave him other duties, such as soldering things for her. With this beginning, Ernest started making his own jewelry, and he did not ever look back. He continued those traditions into his adult years.
Ernest worked out of his own home, and worked for various traders. Along the way he met many other silver and goldsmiths, and he always enjoyed sharing stories about the metals, turquoises and other materials they use.