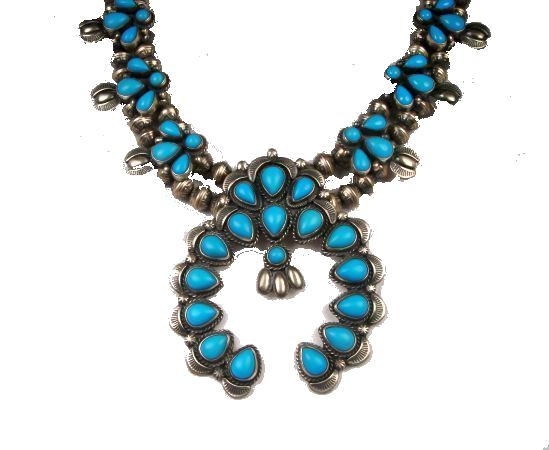 J723 Kathleen Chavez
Squash Blossom Necklace & Earrings
Description
Silver and Turquoise squash blossom necklace by Navajo silversmith Kathleen Chavez. This 22" necklace has a 2" x 3" naja and eight contemporary squash blossoms. The blossoms have 4 Sleeping Beauty cabochons and the naja has 17 cabochons. The matching earrings are squash blossoms with 4 stones in each one.
The Sleeping Beauty mine near Globe Arizona is one of the largest active turquoise mines in North America. Sleeping Beauty is known for its solid light blue color without matrix.
About the artist
Kathleen Chavez
Kathleen Chavez (also known as Kathleen Livingston) was born in Church Rock, New Mexico, December 17, 1958.
Kathleen is a Navajo artist who specializes in traditional pieces and fine stampwork to set stones. She started to silversmith in 1974, making earrings, rings, and 'slave bracelets'. In 1994, she began to challenge herself to create higher-end jewelry, which she says is "much more fun to make, because of the amount of thought and imagination that goes into it."
Today, Kathleen lives in Church Rock with her husband Lorenzo Juan, and works out of Gallup, New Mexico