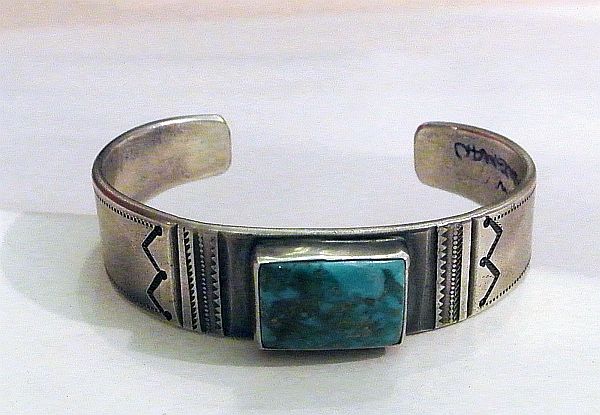 J1485 Al Sommers
Old Kingman Turquoise
Description
J1486 Al Sommers Cuff
Hand stamped sterling silver cuff by Apache silversmith Al Sommers. The 3/4" cuff, which tapers down to 1/2", has an old Kingman turquoise stone. The rectangular turquoise is 1/2" x 3/4". The inside of the cuff is 6" with 1 1/4" gap.
Native Arizonian silversmith Al Sommers has an Apache, Blackfoot, French and Scottish heritage. He learned the art of making jewelry from the old Navajo masters. He makes his own tools and stamps and is known for his traditional patterns and deep stamp work. He uses only the finest and highest quality of turquoise. His museum quality silver can be found in fine galleries throughout the United States and in collections worldwide.
The Kingman Turquoise Mine is one of the oldest producing Turquoise mines in North America. It was discovered by Native Americans over 1000 years ago. Kingman Turquoise is known for its beautiful blue color and the mine produces many variations of blue turquoise. The mine also produces turquoise with a wonderful "Birdseye" or "Water Web" matrix pattern along with beautiful Spiderweb matrix patterns.
About the artist
Al Sommers
(1942 -August 2016)
Apache descendant and Arizona silversmith Al Sommers is renowned for his interpretations of classic Navajo designs, stamping patterns and techniques, and his use of beautiful natural American turquoises, giving his work very distinctive and unique character.
Silversmith and artist, Al Somers, is a native of Arizona. Having Apache, Blackfoot, French, and Scottish heritage, he has a multicultural appreciation for the Southwest and the diversified area. Somers learned the art of silver-smithing from old Navajo masters. He subsequently crafted his own tools and stamps patterned much after the early classic Navajo period.
Somers is renowned for his impeccable attention to detail and his use of beautiful and rare stones. He has collected quantities of valuable stones over the years and continues to utilize the older stones in the pieces he fashions giving his work a very distinctive character. Somers hand pounds his own silver and sets very unique and rare stones in his work.